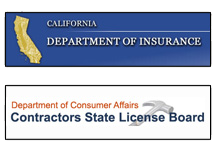 Surety Industry
A surety bond, which includes license bonds and contract bonds, is a credit relationship between the bonding company, or "Surety", and the contractor. License bonds are required by the California Contractor State License Board to operate a contracting business legally in the State of California and contract/performance bonds are often required for individual projects.
The credit relationship in a license bond is based on the contractor's obligation not to commit any violation of contractor license law that is grounds for disciplinary action against the license. On the other side of the credit relationship, the surety company lends financial support for that obligation as an intermediary between the contractor and potential claimants, and charges a fee, or "premium", for that financial support. If the contractor does not comply with the conditions of the bond, a claim can be filed with the surety company that holds the contractor's bond.
The bond does not relieve the contractor of his or her obligation in the event of a claim. The surety company, acting in its role as a financial intermediary, is required to satisfy a valid claim. The surety then has an equal claim against the contractor, which the contractor must repay in order to maintain a license in good standing.
For more information on legal and regulatory issues facing contractors, please click on the following links:
California Contractors State License Board
www.cslb.ca.gov
California Department of Insurance
www.insurance.ca.gov
The Surety and Fidelity Association of America
www.surety.org
California Department of Corporations
www.corp.ca.gov
The premium charged by the surety company is based on the contractor's credit score, license history and the term of the bond.
Get a Quote: California Contractor License Bond